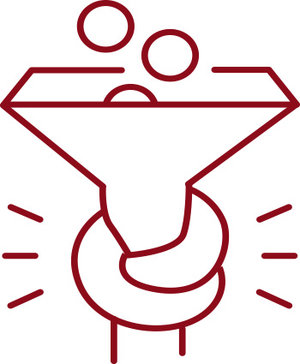 YOUR NEEDS
Trouble with
your funnel?
How can we use digital channels to increase sales? How can social media channels help us to generate new (more) leads? Do I allocate my marketing budgets efficiently? How are we able to transform our current sales organisation to a more digital organisation? What are the needed skills for a high performance digital sales team? How can we better combine our existing marketing and sales activities by using digital solutions?
"Don't worry!
We take care of it."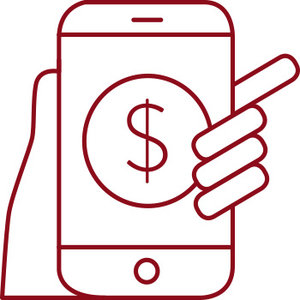 OUR PURPOSE
We prepare you for the future - no more, no less!
We are convinced the future of marketing and sales is shaped by technology:
Transparency, always-on connections, instant availability and automation are just a few drivers.
We want to enable marketing and sales departments to be equipped for the future.
Building up the crucial marketing and sales capabilities we run the operations in the meantime for the best results.
"And that's how we score" 1. LEAD generation
We increase
your leads.
We optimize and control your digital marketing initiatives and combine all relevant digital channels (e.g. LinkedIn) on an efficient budget.
YOUR BENEFIT
We can start immediately and are able to create first results within days not weeks.
We are able to use your budget with the highest ROI and best conversion rates between 5-25%.
We work completely transparent and empower your team.
. 2. LEAD QUALIFICATION
We deliver hot leads.
We start where others end. We qualify and enrich leads for sales to make their job easier—and more of your leads will be turned into revenue faster.
YOUR BENEFIT
We only take over your operations as long as needed.
We separate the relevant leads from the irrelevant to make your life easier.
We help you set up your Inside-Sales Unit from day one. 3. LEAD MANAGEMENT
We do Lead Management end-to-end. And you call it

YOUR BENEFIT
We give you a holistic view (end-to-end) of your lead performance.
We build up your internal capabilities and ensure that you in-house all fundamental capabilities right from the beginning.
We are the 1-stop-solution for your leadwunder.
Our Services
Now, we're talking!
We consult in three different stages customized on every single customer.

Setup and
strategy.
We help you define your growth potential through advanced digital marketing and sales. We compare with market best practices and derive a realistic ramp-up plan.

Operations and collaboration.
We don't want to end up with PowerPoint slides. We are entrepreneurs and we want to help you increase your revenue. In the long run, we believe you should do this on your own, but in the meantime, we can run the digital marketing and sales team for you.

Scaling and
handover.
You need to be in charge of your marketing and sales capabilities. We help you to hire the right talents, train existing colleagues and define the standards that will ensure a smooth handover from our operations to your in-house one.
"We work closely together with your team."

OUR Expert TEAM
We breathe
Marketing, Sales & Technology
Benefit from true experts in digital with strategic vision and hands-on mentality.
OUR REFERENCES
An overview of our references.
Benefit not only from our true digital experts, but also from our expertise with numerous satisfied customers. Get in touch!
Lets create the
future together.